While black trim white wall rooms can feel risky as a part of your design, this simple update can actually elevate your home. Painting your trim black creates the perfect contrast against bright white walls, framing your space.
Traditionally trim is painted high-gloss white, creating a clean look in any home. But, by going in the opposite direction and painting your trim black, you create a unique detail with your trim. Instead of going unnoticed, black trim stands out and emphasizes its look. And don't forget about window and door trim. If you're not ready to paint your baseboards, consider painting the trim around your windows or doors to create a fun contrast.
For inspiration, check out our favorite rooms with white walls and black trim in the gallery below.
1. Home Bar with Contrasting Ceiling and Trim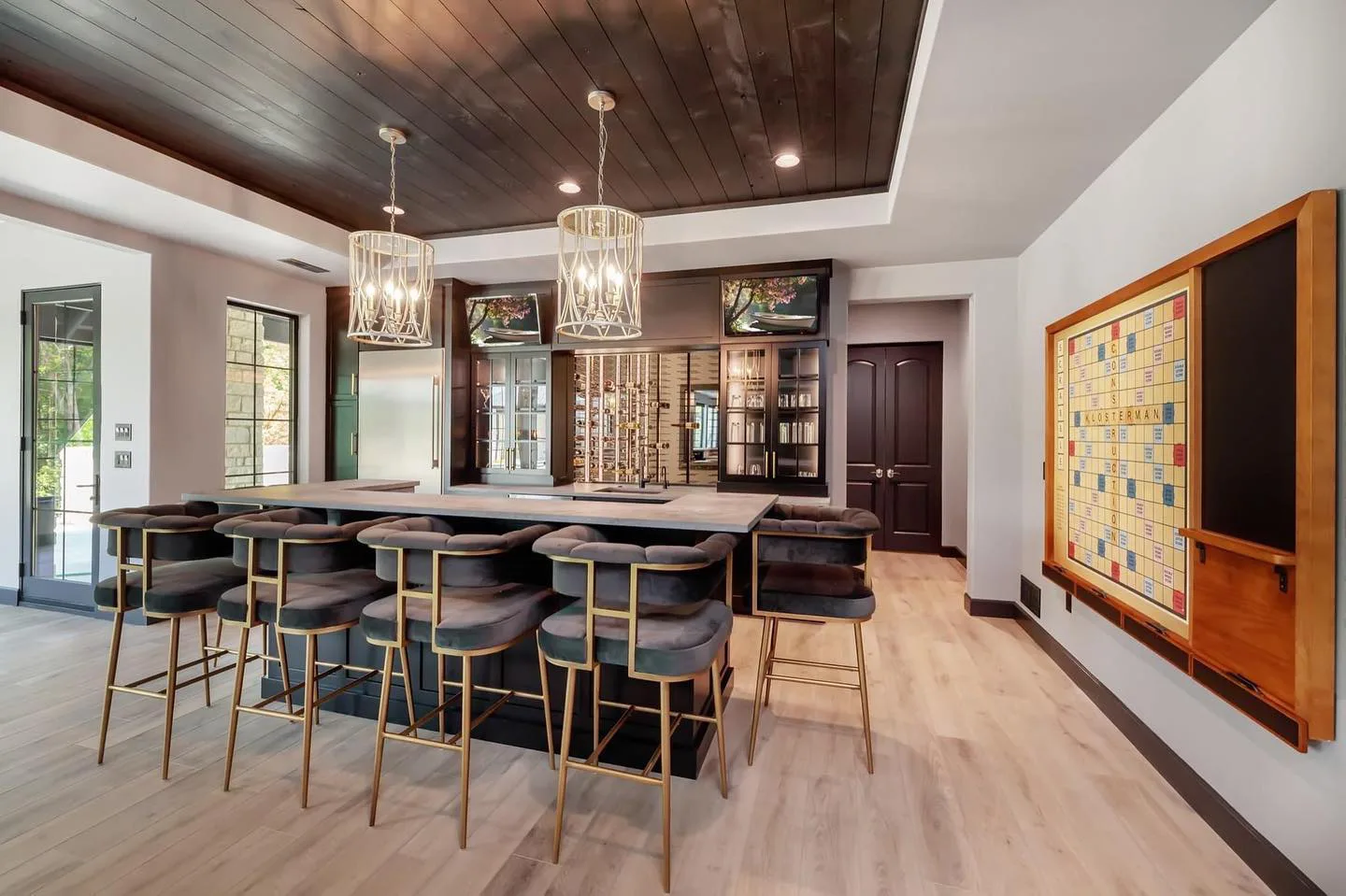 This home bar uses black contrast to frame the white walls in the space. This contrast is continued with the brown cabinetry and shiplap ceiling. Gold chairs with grey padding add a modern feel along with the light hardwood floors. Don't feel limited to black in your design; using different trim colors is a unique way to create contrast or accent colors in your space.
2. Black Trim Wine Shelf in a White Room
The black trim around this built-in wine bar creates a striking contrast against the white walls. The black accents are continued on the nearby island with a black stove and decor on the counter. Chevron wood floors add a luxurious feel while introducing warm tones.
3. Modern White Walls Black Trim Apartment
This modern apartment uses a black trim white wall design to create a contrast echoed by the mid-century modern coffee table. Light wood floors brighten the space, along with the off-white tufted couch. A wood end table is nestled in the corner with a silver and white lamp for a pop of warmth.
4. Black Trim and Vanity in a White Wall Bathroom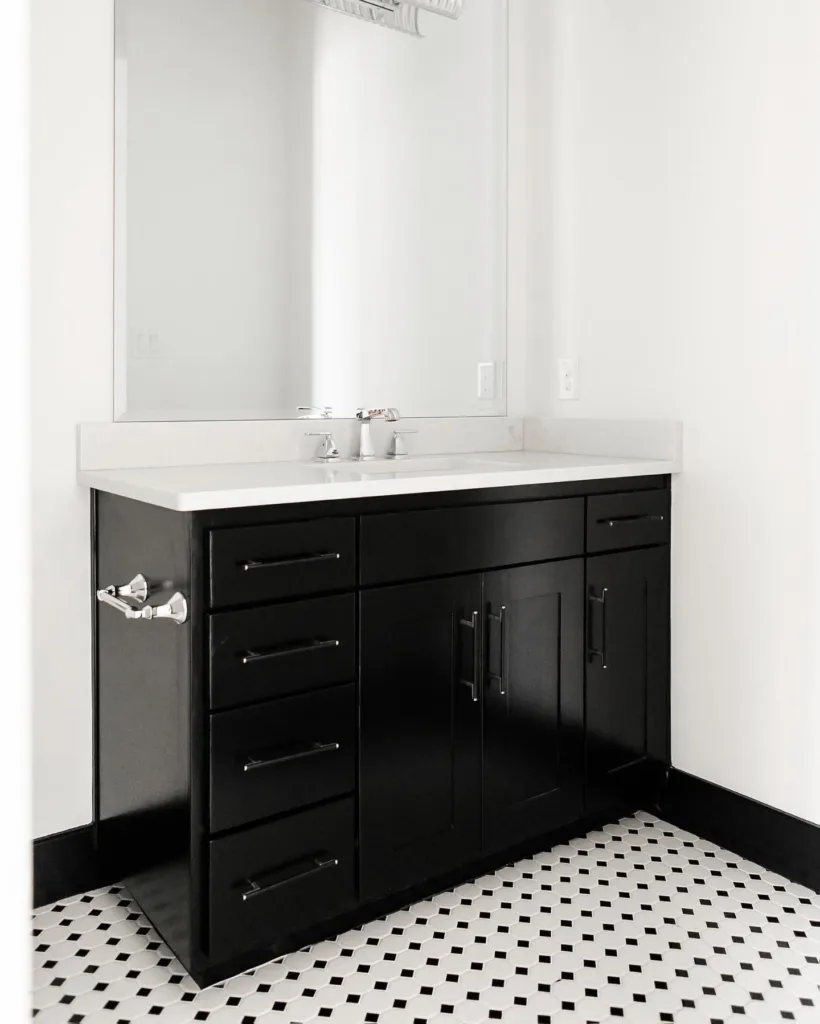 The black vanity with black handles and a white countertop continue the contrast of this bathroom with mosaic floors. Black baseboard trim and white walls around the space continue the design and give this space a classic feel.
5. Black Trim and Staircase in a White Home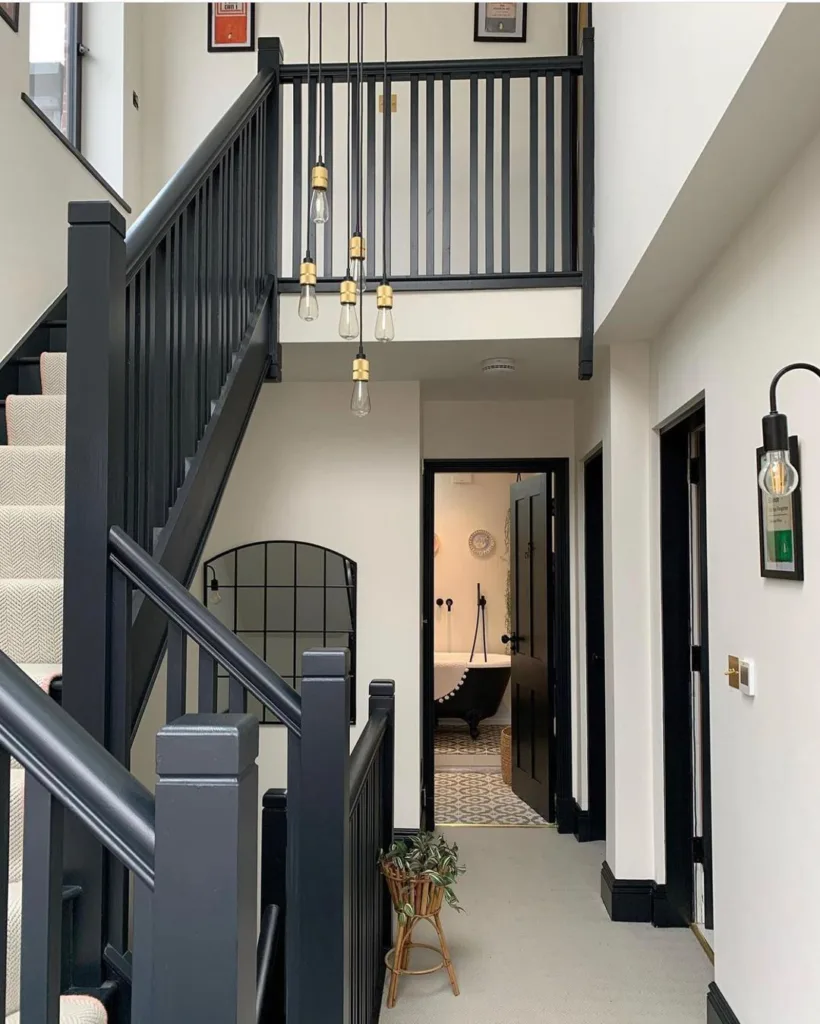 This townhome's staircase features black banisters painted in Sherwin Williams Iron Ore and is designed to match the black trim around the home. To emphasize the contrast, this home painted all of the wood trim around the doors and windows black, along with the doors themselves. Using semi-gloss black paint also adds a luxurious texture to the molding.
RELATED: 33 Stunning Stone Fireplace Ideas To Warm Any Home
6. Black Window Trim with White Walls and a Shiplap Ceiling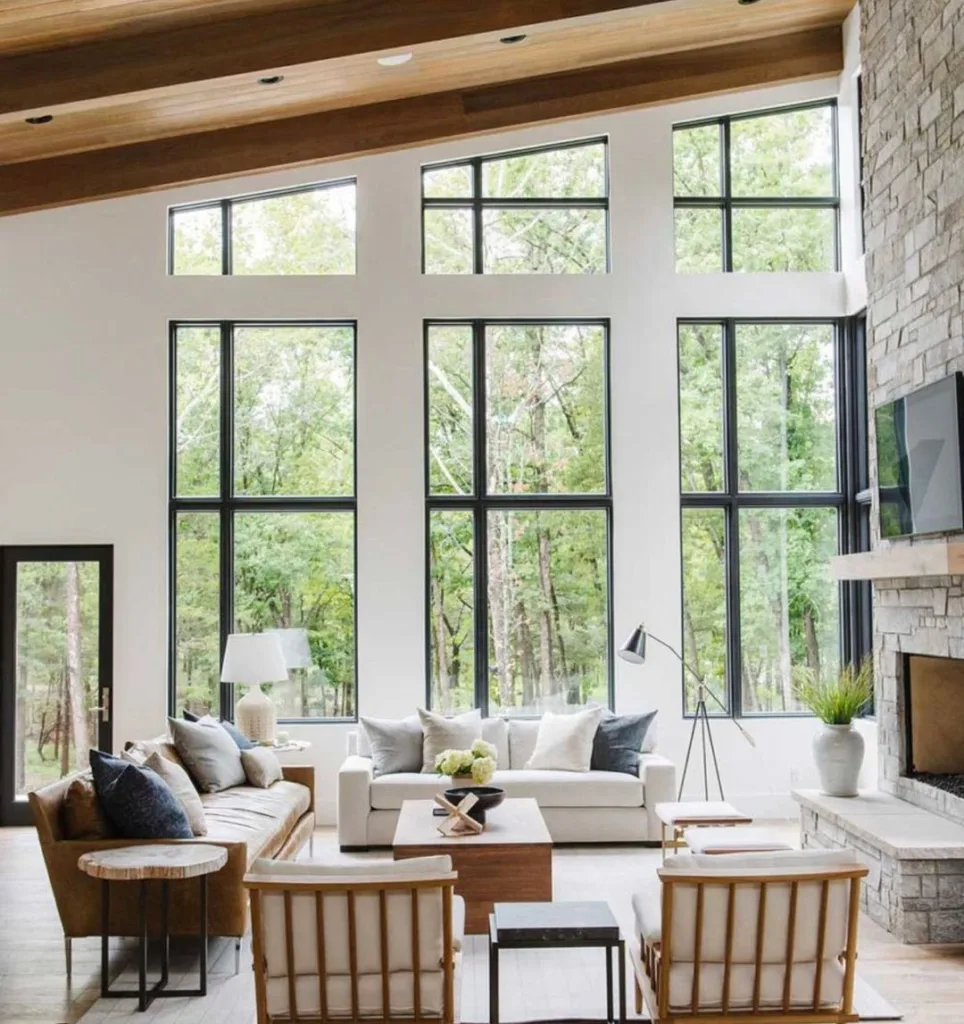 High ceilings in this living room are highlighted by the tall black framed windows that pop against the white walls. To create a warm and rustic feel, a sloped shiplap ceiling with wood beams is installed and draws your eye toward the stacked stone fireplace.
7. Black and White Staircase in a Classic Home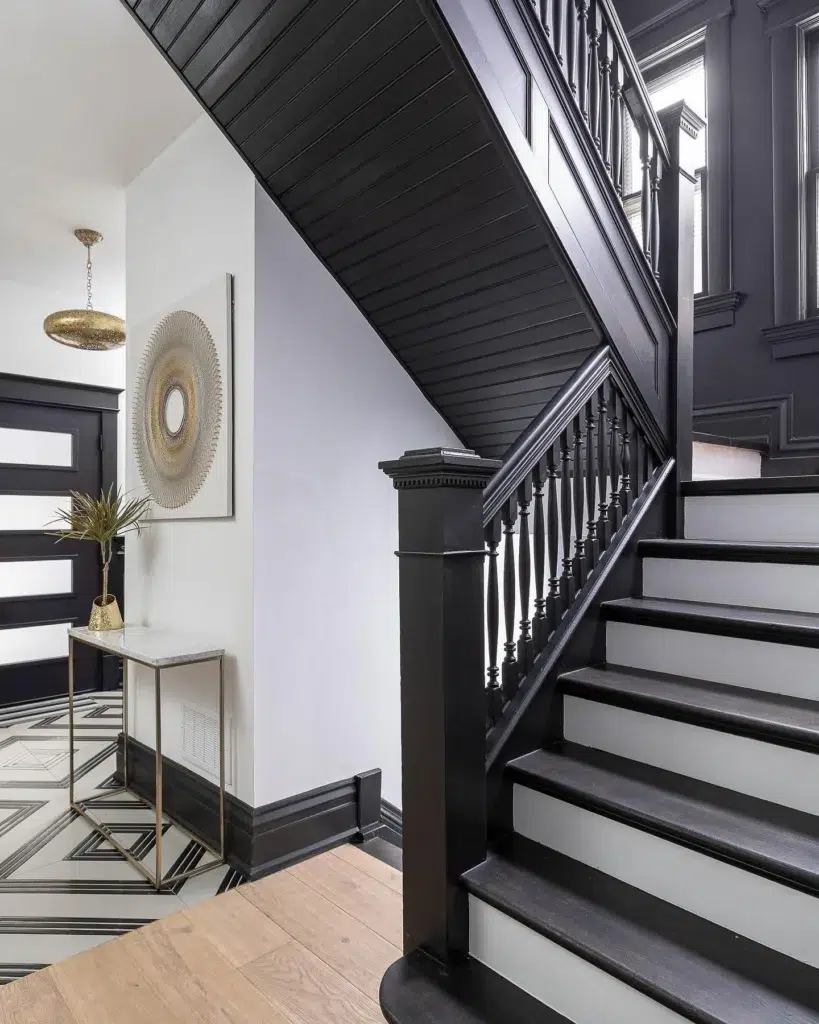 Intricate black trim on cool white walls is continued around this home with hardwood floors and patterned tile. The wood staircase continues this theme with white risers and black treads that create a beautiful pattern. Gold accents are added to the house for a hint of neutral color that complements the wood floors.
8. Black Trim Glass Doors in a Light Colored Living Room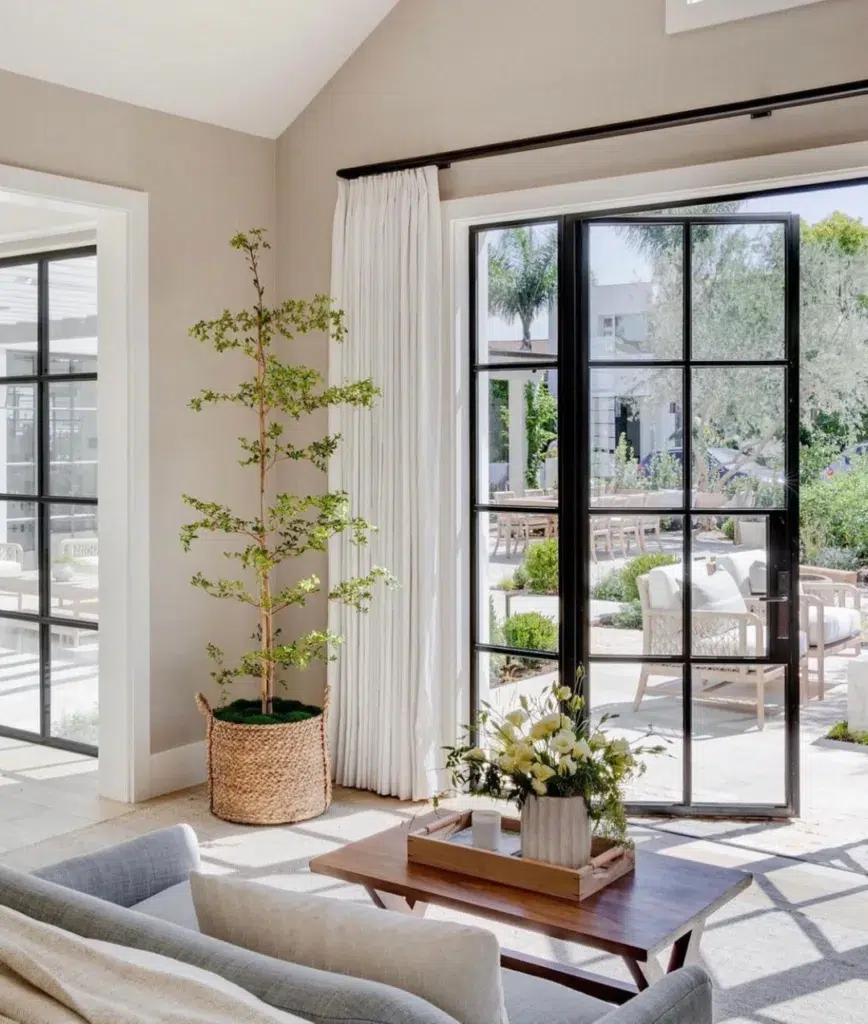 Glass doors with black partitions and trim create an opulent look in this sitting room that leads to the patio. The black accents stand out in this room with off-white walls and white trim. This living room is an excellent example of sticking with traditional white baseboards but using black door trim to create contrast. Also, remember that you can use different shades of white on your walls to contrast black accents. Since black is a neutral color, it will look great with any lighter paint colors.
9. Wood Accents in a Black and White Kitchen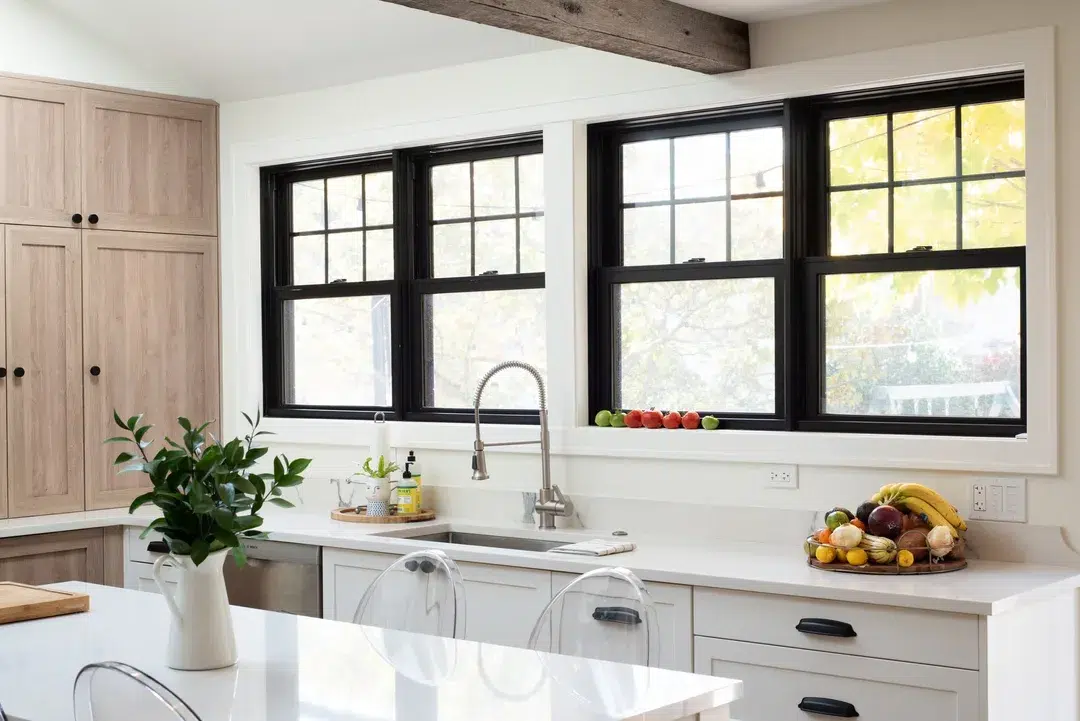 Black windows with white trim and walls complement the black hardware in this kitchen with white and white oak cabinets. Windows are often overlooked as a design element, with most people settling on standard white. Instead, integrate your windows into your design by using them to create an accent or contrast.
10. Black Trim in a Modern White Living Room
This living room with white walls and black trim creates a modern look continued by the metal railing stairs. Light white oak floors fill the space, adding a touch of warmth, while the stairs are covered in carpeting.
RELATED: 14 Real Pictures of Sherwin Williams Iron Ore [SW 7069]
11. Black Window Trim Around A Marble Fireplace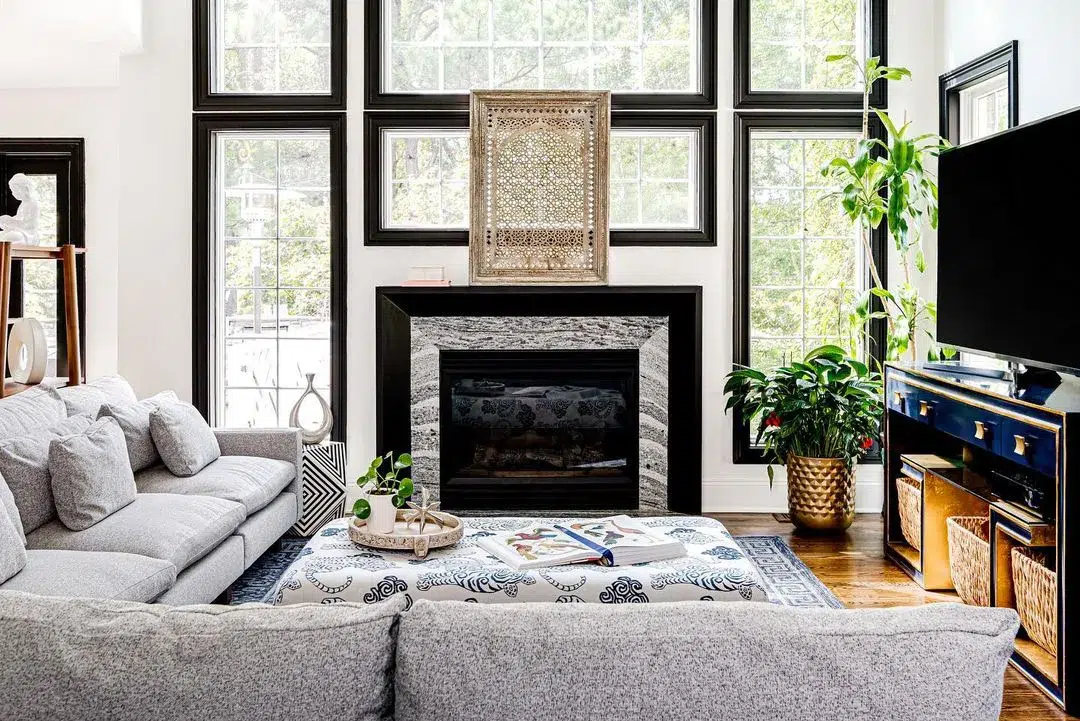 This stunning living room with a grey and black marble fireplace continues the contrasting design with black trim windows around the room. Painting the trim around the windows black creates a picture frame-like design that stands out and highlights the view. A grey couch provides seating and matches the marble fireplace surround, while rich hardwood floors add neutral hues.
12. Black Metal Window Trim in a White Kitchen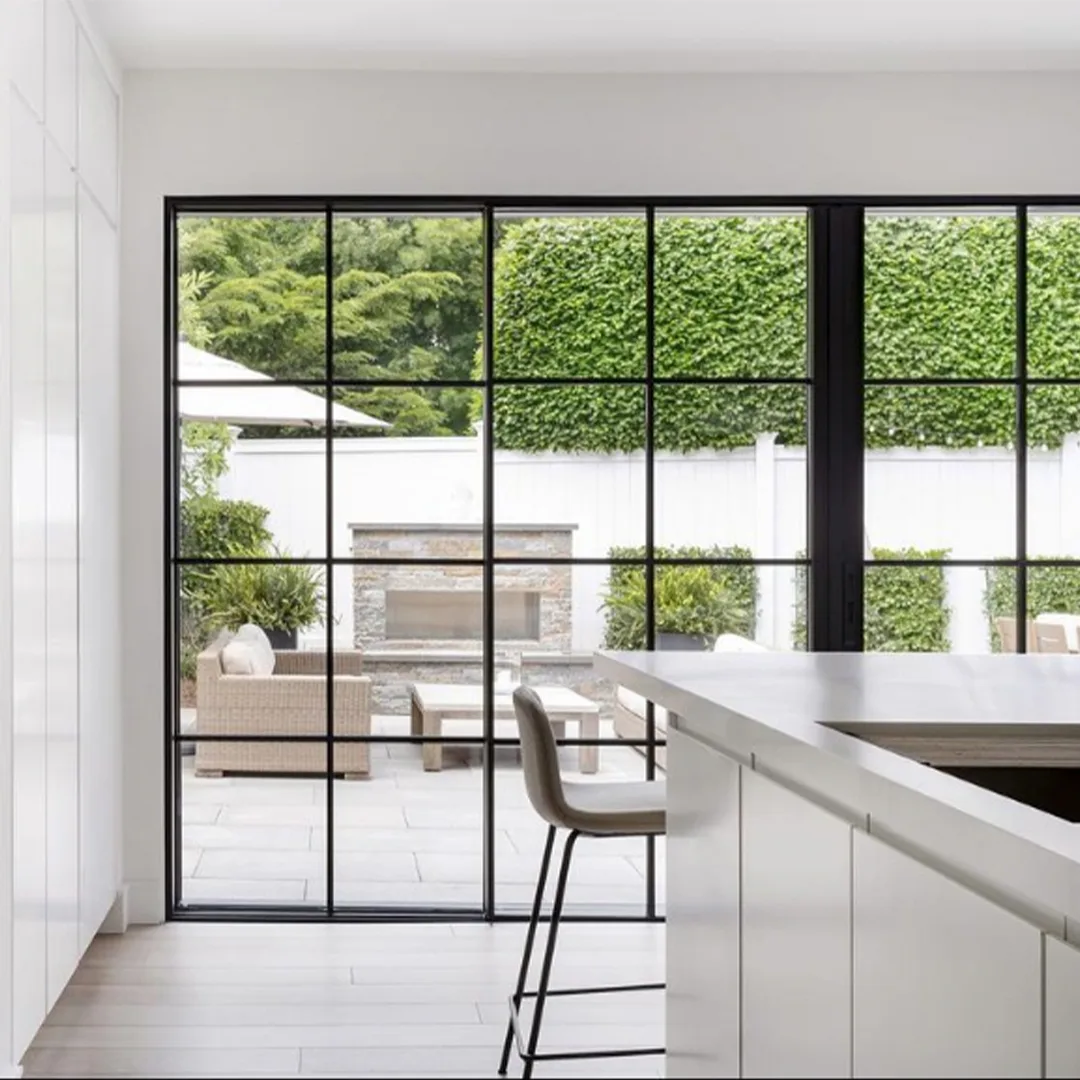 A large wall of windows is framed with black trim and partitions, helping to break up all of the glass. The black accents are continued in this kitchen with white cabinets and white countertops for a clean look. While black framed doors and windows have become on trend in the last few years, this a timeless design that is sure to stick around!
13. Marble Bathroom with A Black Trim Doorway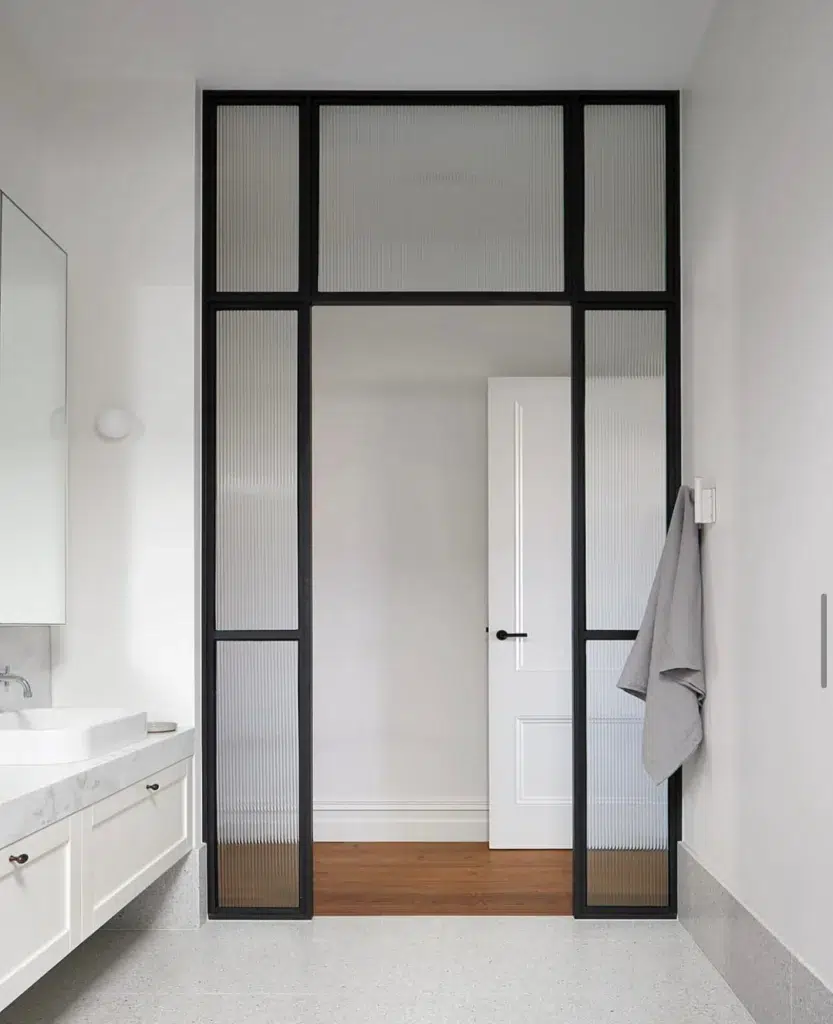 This marble bathroom with white tile floor and walls use black trim around the privacy glass to frame the entryway. This stunning detail helps break up the all-white design and create separation between the hallway and bathroom.
14. Black Trim Windows with Hardwood Floors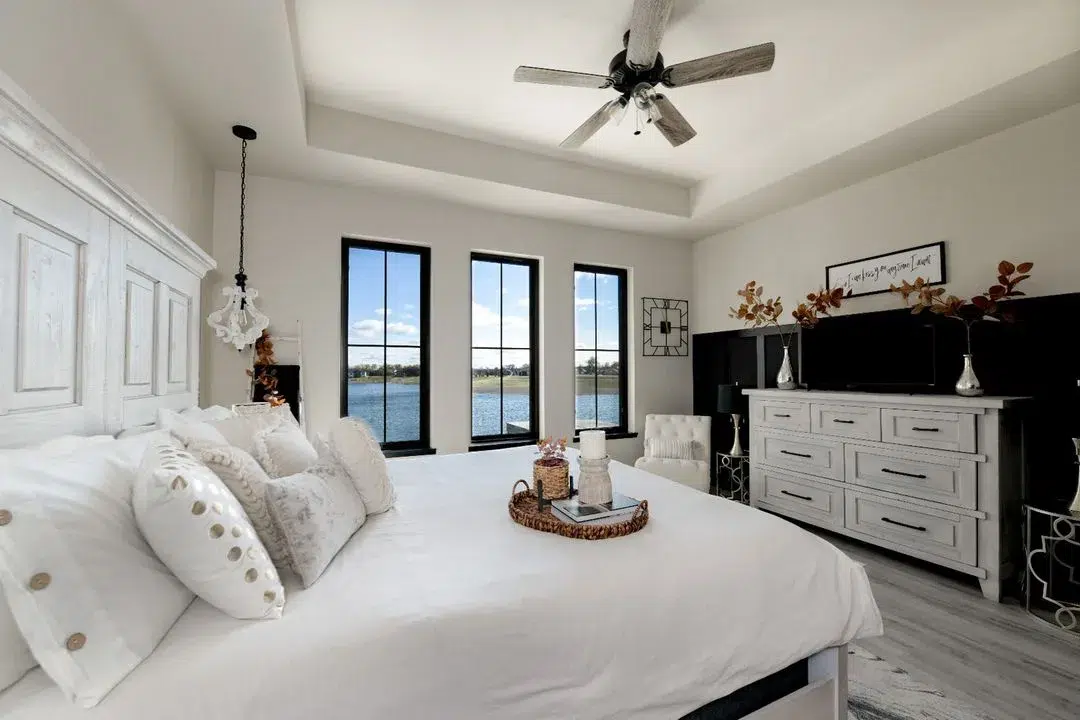 Black molding around the windows in this bedroom with white walls and a tray ceiling creates a beautiful contrast that draws your eyes toward the view.
15. Black and White Kitchen That opens to the Outdoors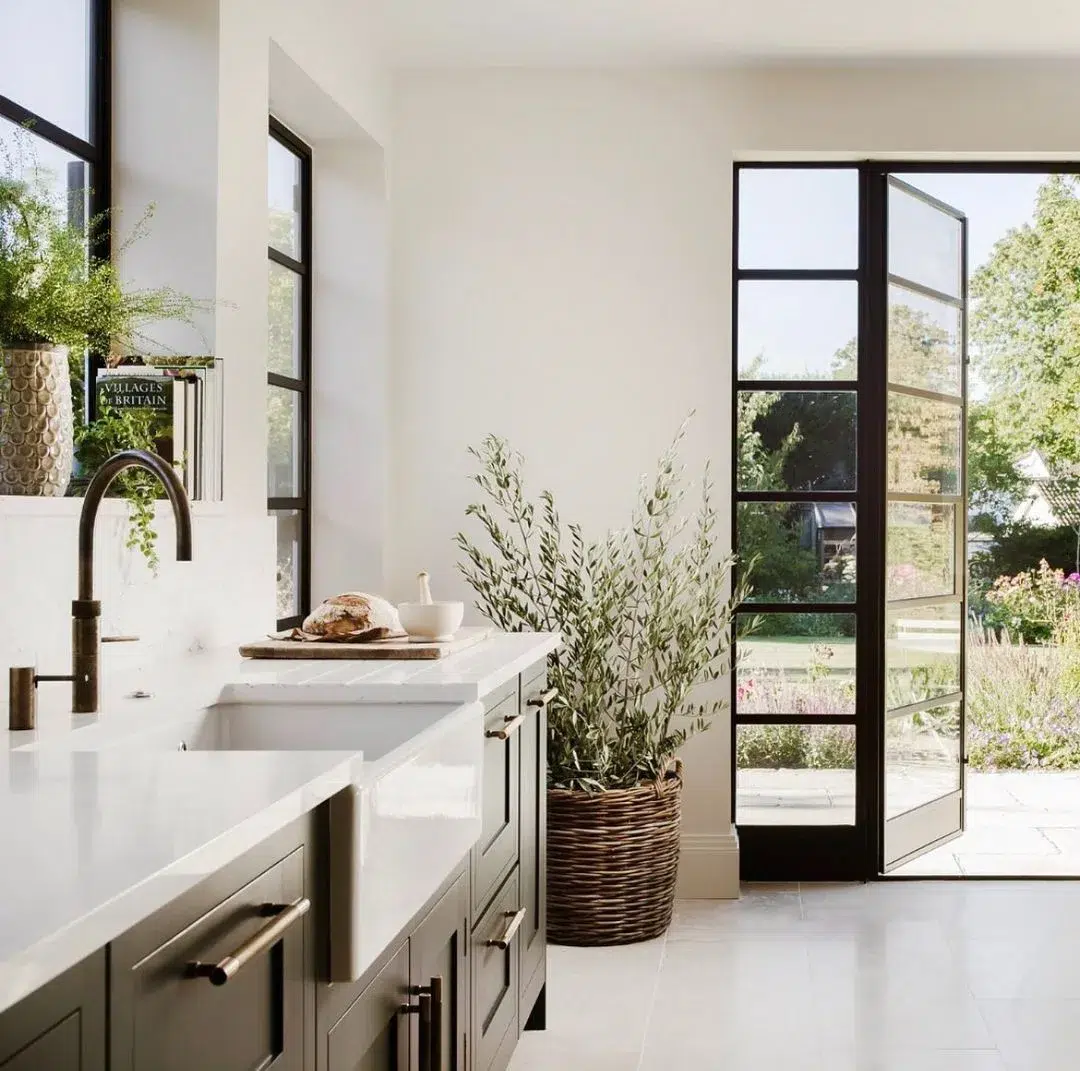 Black molding around the windows and doors in this kitchen creates a modern design that complements the black cabinet kitchen. A farmhouse sink adds a rustic charm that balances the contemporary design elements.
16. Black Tile Floor with a Matching Door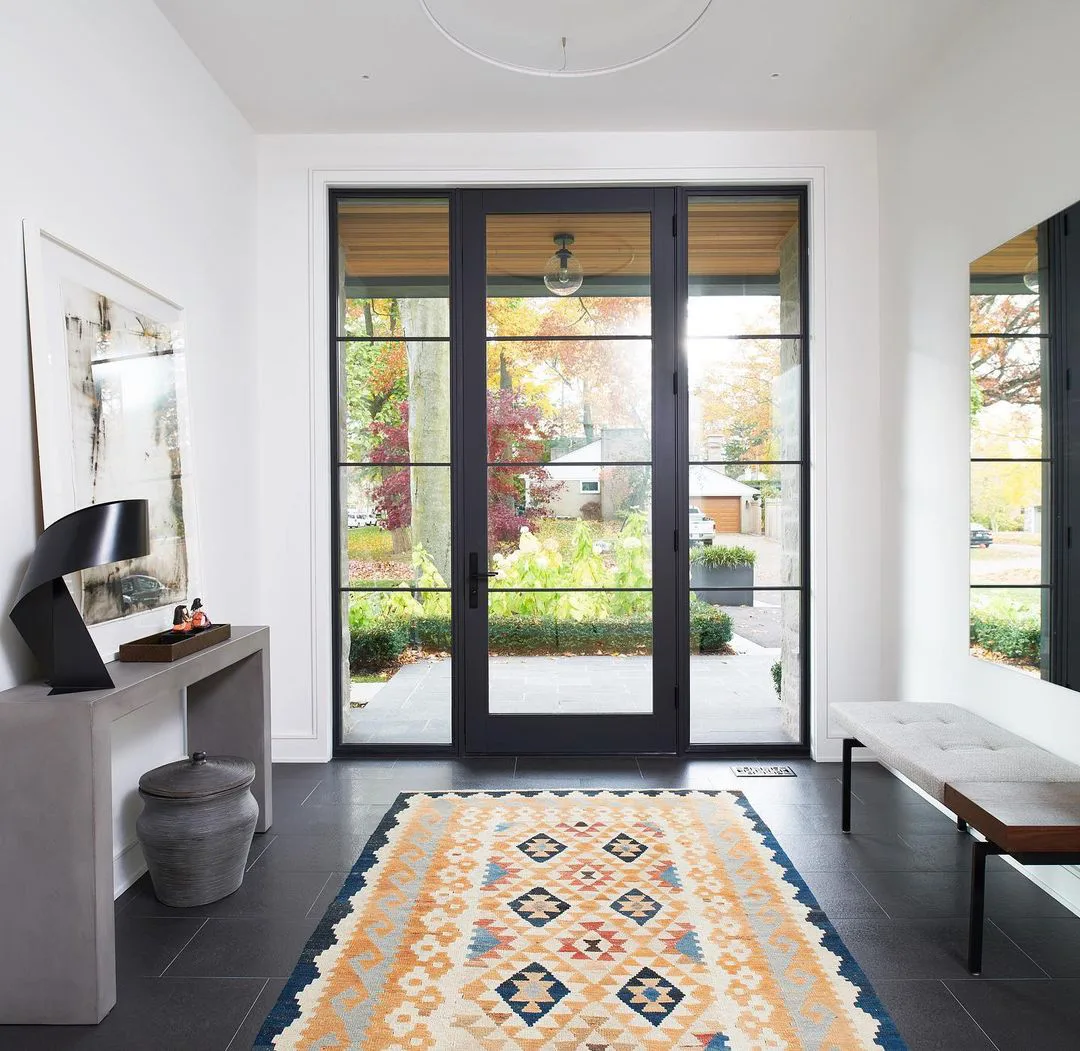 This entryway features a black trim door with white walls, creating a bright design. A black tile floor with grey grout complements the doorway, while a grey console table and bench balance the design. A yellow patterned rug adds a pop of color to help break up the monochrome colors.
17. Black Trim Windows Around a Soaking Tub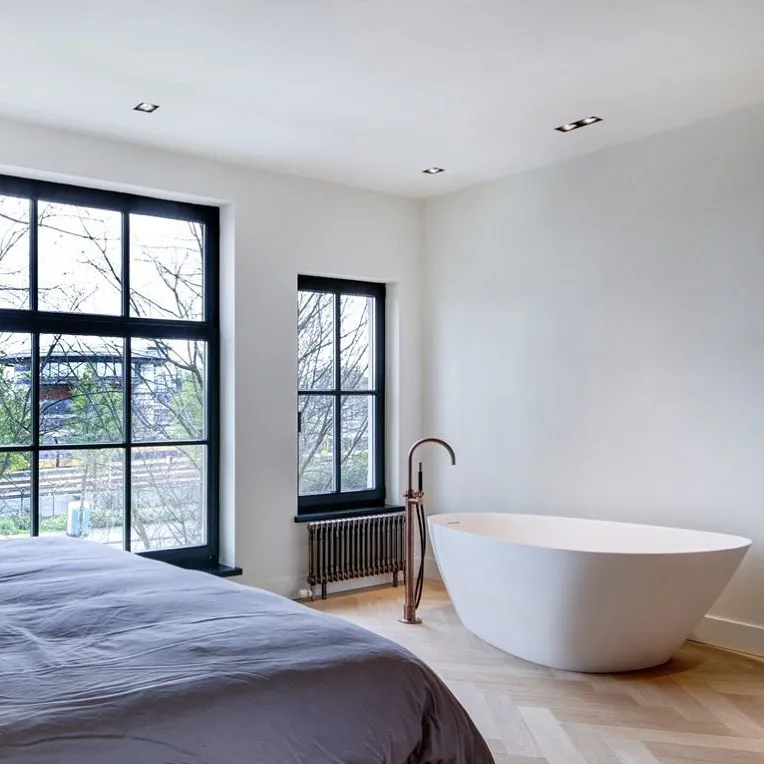 This studio apartment with a floating bathtub adds a luxurious feel with herringbone wood floors. Large windows with black trim pop against the stark white walls in the space. Painting walls white is an easy way to give your room a clean and modern look.
RELATED: How to Fix Countertops On a Bowed Wall?
18. A Modern Light Fixture in A Classic Black Trim Home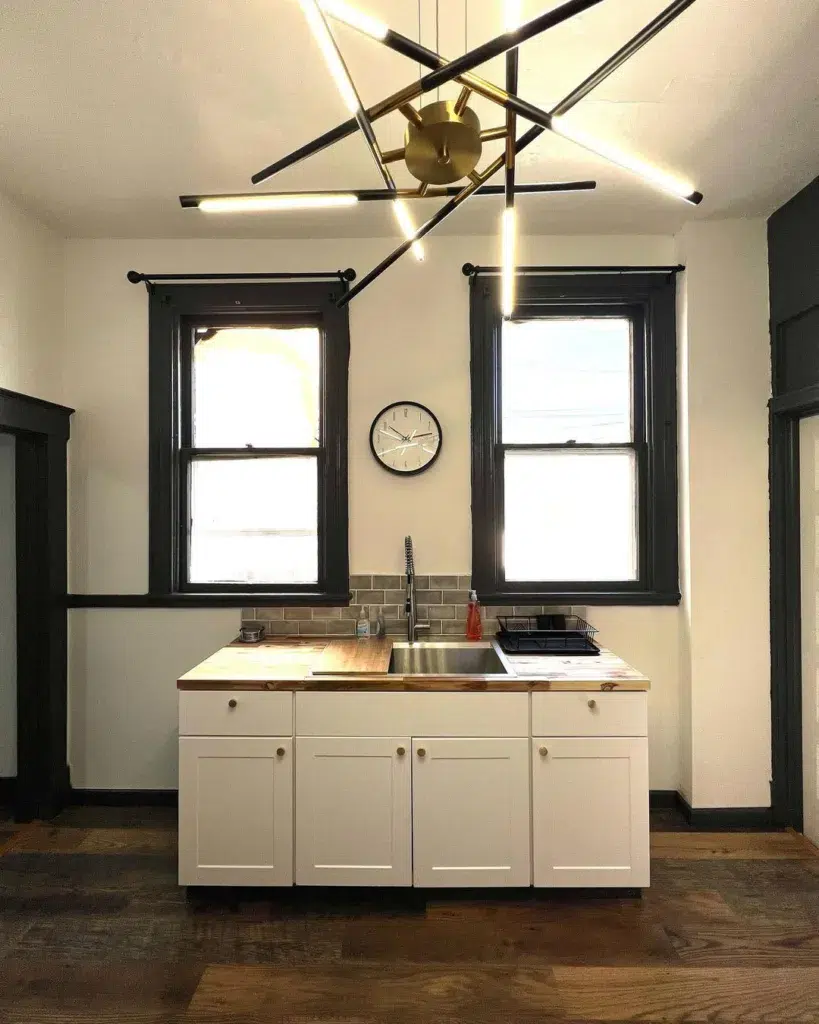 This simple kitchen features white cabinets and a wood butcher block countertop, giving it a country feel. A small brick backsplash is installed around the windows on either side of the sink with black trim. White walls match the cabinetry and are contrasted by black baseboards and trim around the space. If you're worried about your black trim and white walls appearing too sterile, try adding warm neutral tones like wood to help balance the design.
19. A Chandelier in a Black Trim Dining Room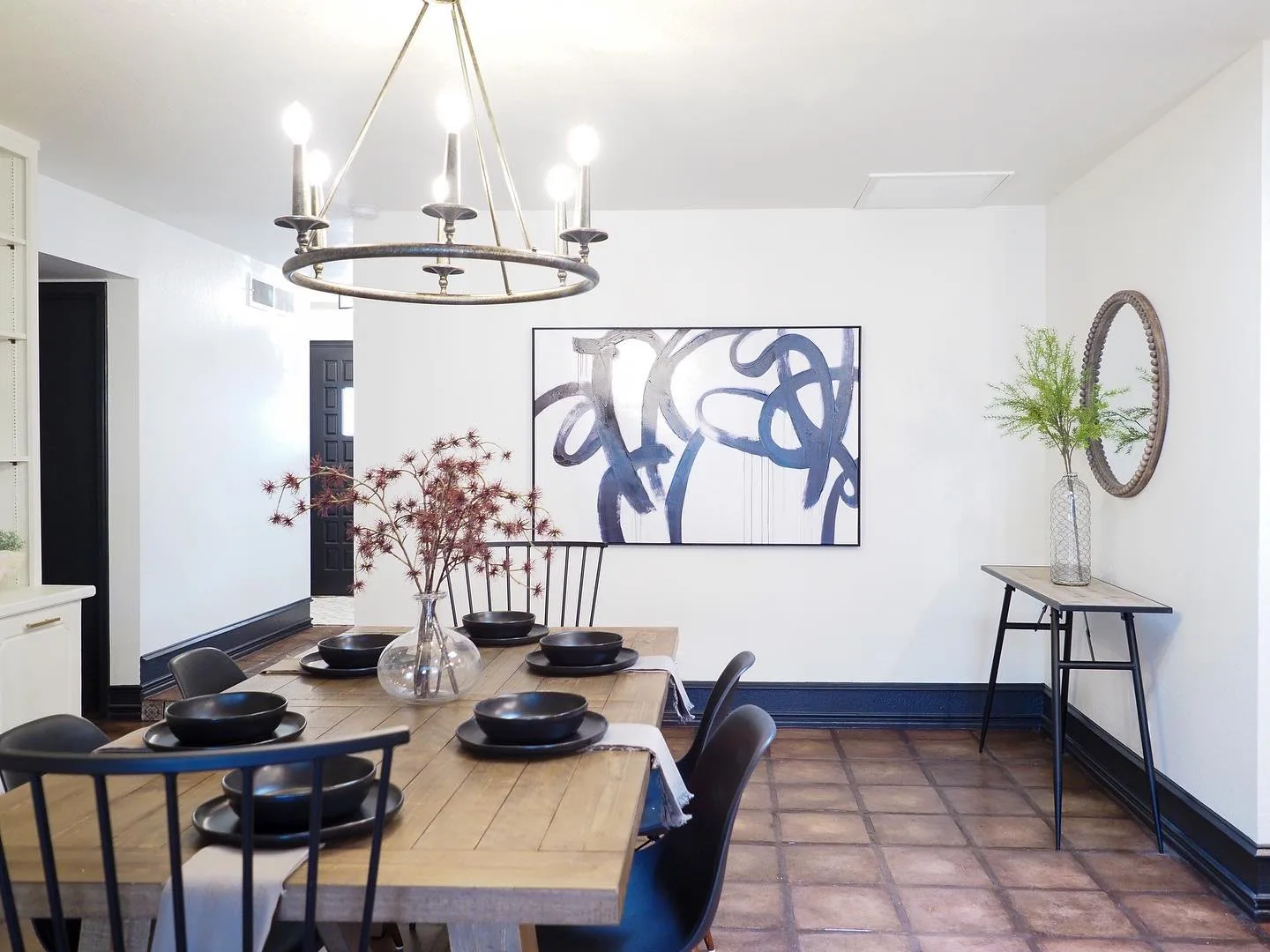 This dining room matches the black trim around the space with black dishware and chairs at the wood table. Integrating the black and white theme across the decor and room is a great way to create a cohesive design. The color scheme is even included in the large artwork on the wall.
20. Black Framed Glass Doors in a White Modern Home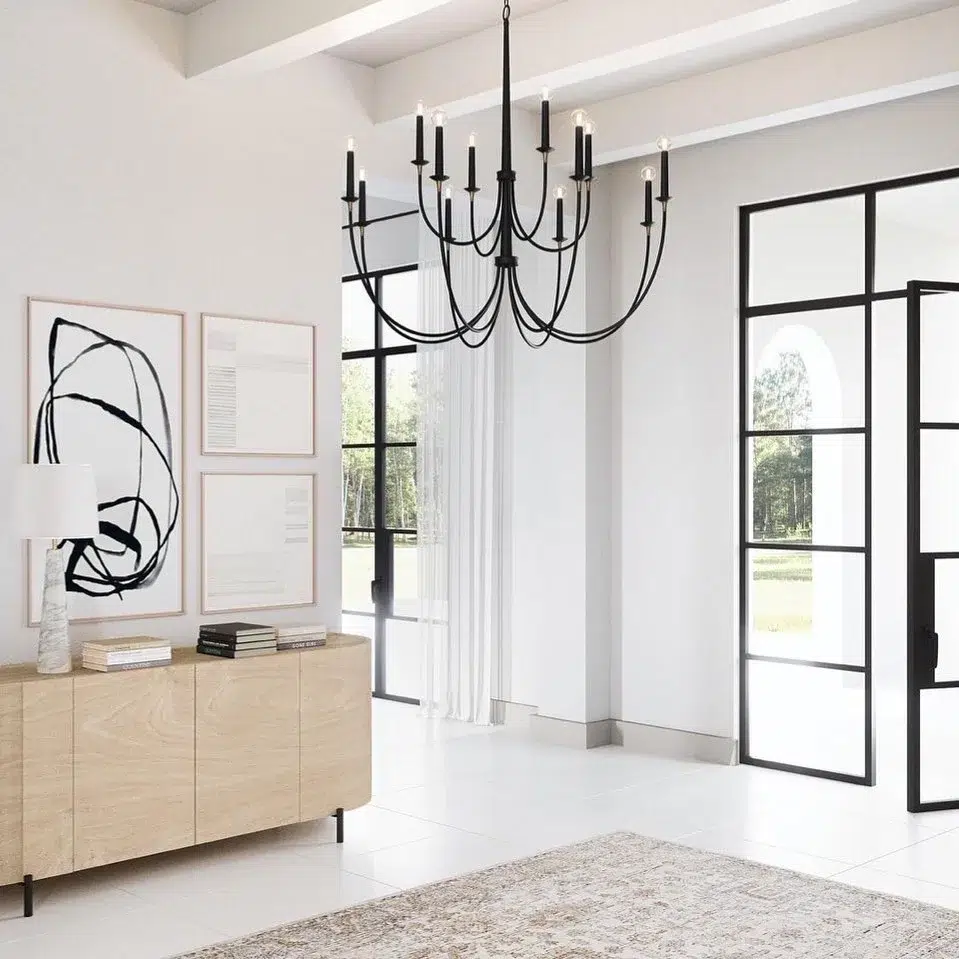 This bright space uses white oak furniture to balance the white walls and floor tiles that, create a crisp look. Black framed metal doors contrast the area and add a delicate look to the doorways. Grey baseboards around the room match the patterned rug and fit into the neutral color scheme.
21. Farmhouse Living Room with Black Window Trim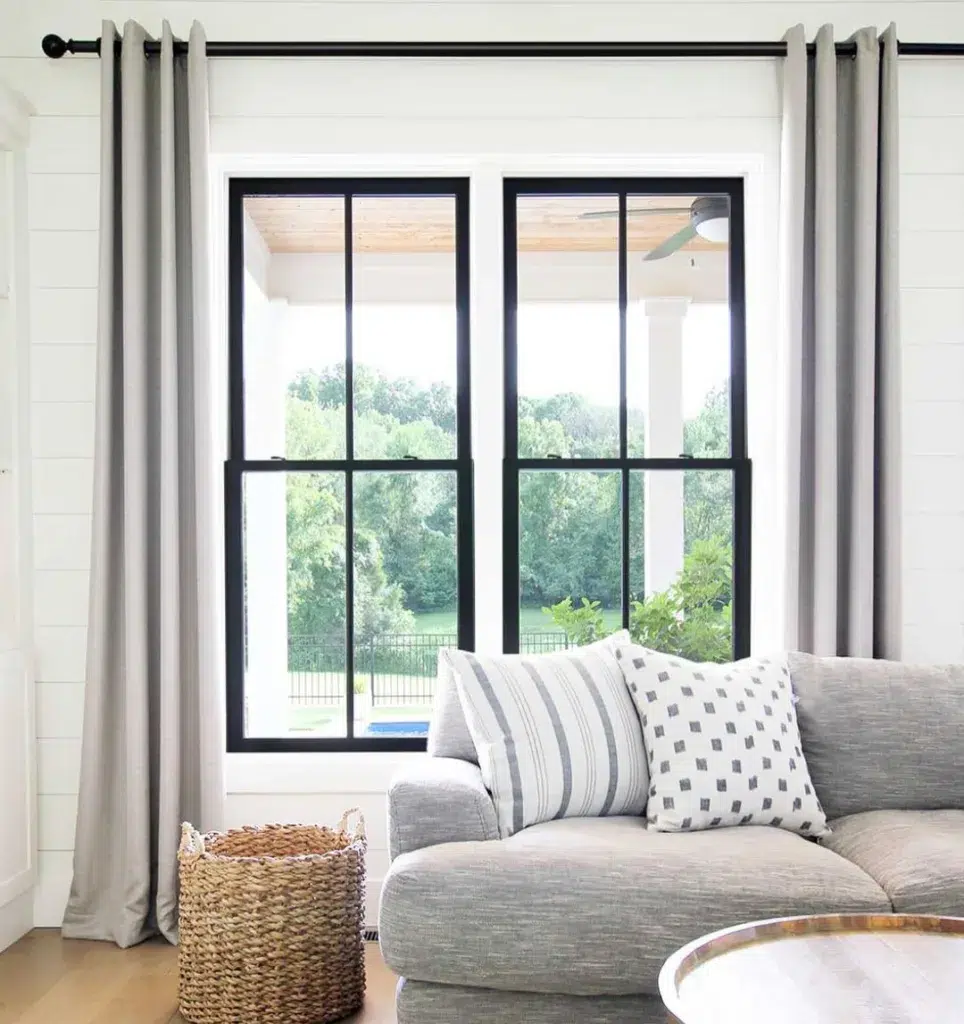 A white shiplap wall features a black window that adds to the farmhouse style of the space. A black curtain rod matches the window, with grey curtains hanging to accent the nearby sofa. White patterned throw pillows on the grey couch complement the other colors in the space.
22. Black and White Kitchen with Sloped Windows
This black and white kitchen with a sloped ceiling continues the theme with the window trim in the room. Thick black painted trim surrounds each massive window framing the view outside and complementing the cabinetry. A white subway tile backsplash with black grout adds to the contemporary style of this home.
23. White Walls and Black Trim in a Penny Tile Bathroom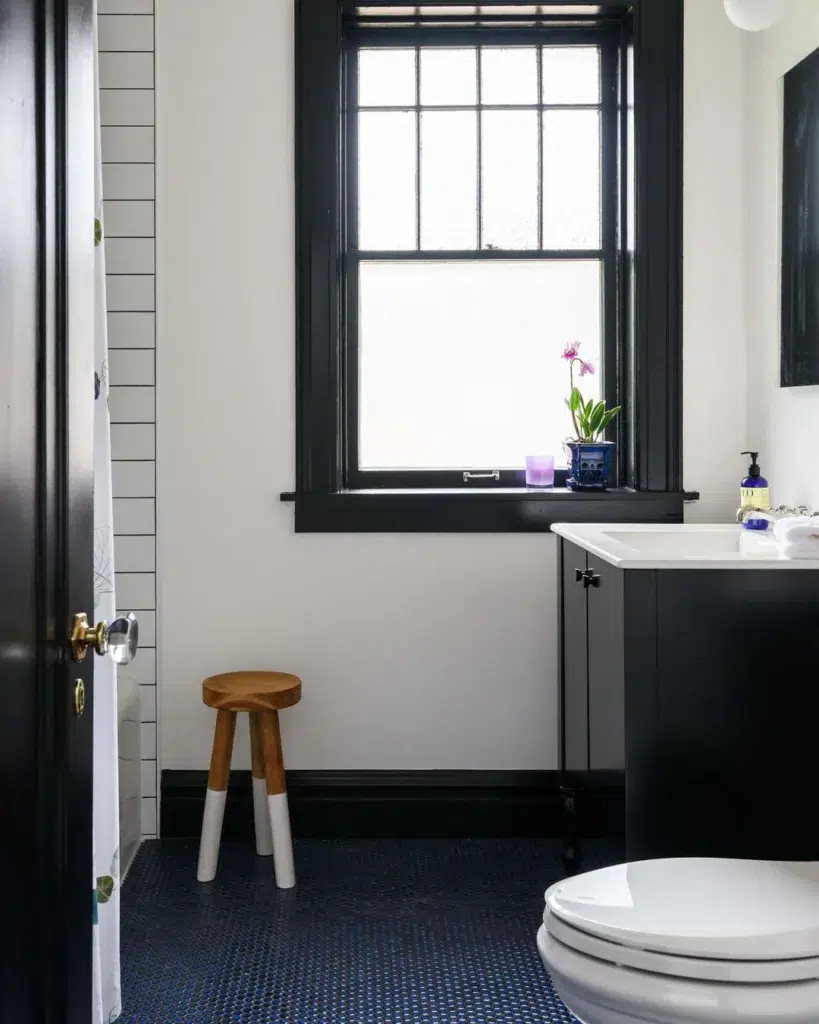 A navy penny tile floor in this vintage-style bathroom breaks up the space's black trim and white walls. The color scheme continues in almost every element, with a black vanity, white countertops, and a subway tile shower.